We've had our first proper residency with QOROQ! The lovely space L'Obrador in Deltebre has hosted us for a week, we got to try out some of our new ideas for the first time. New scenes are slowly starting to appear, have quite a lot of material that we can develop further.
Play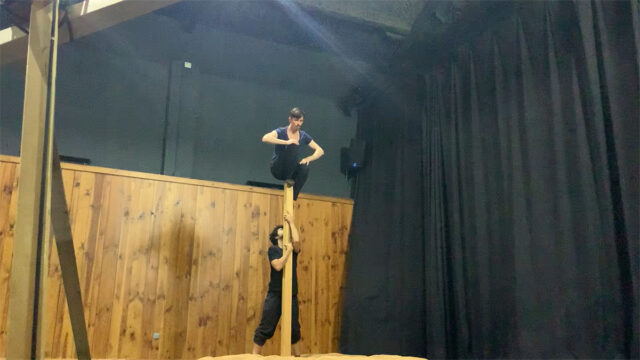 This balance here feels a little like a continuation of what we've made in OVVIO, but there we have to points to balance from, while here only one. It is much harder, we'll never be able to do it without the other person supporting from below, but it could eventually become a strong scene. For now we're just collecting ideas, not thinking too much about how they will be presented.
Play
We'd eventually like to make this with a lot longer wooden beams, but for the moment it is already quite a challenge. We're clearly doing a lot more physical balances in this new creation, our training will have to change accordingly.